For many schools, teachers, and students, getting back into the swing of things after Thanksgiving break may be difficult. Everyone is used to sleeping in, eating and doing whenever they want to, so the school day routine may be a bit hard to get adjusted to again.

Teachers should try to avoid diving right into the schoolwork after the break. Instead, make the adjustment a little bit easier by welcoming students back with fun classroom activities that incorporate what they did over their holiday vacations and to get them back on track and motivated to learn once again.
CREATE A HOLIDAY MEMORY BOOK- These can be drawn on paper or on a student's blog. Have them draw or use clip art to capture their favorite parts of Thanksgiving. Then ask them to describe it in a few sentences. Once they are completed, have the students share them with the class and at the end, if you had them create it on paper, bind it into one big book.

HAVE A MYSTERY SHOW AND TELL- As soon as students come back to the classroom after Thanksgiving break, they are going to be flooding you and each other with stories about what they did and funny moments. What's a better way to share all of their experiences? Have the students draw the best part of the holiday and describe the moment in a few sentences Anonymously. Then share them with the class and have the students guess who's moment it was.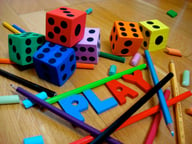 PLAY A FUN GAME- Welcome your students back with a few fun games. Try games like the "Hot Seat" where one student faces away from the board and chooses three people to give them clues about what is written on the board behind them. Another fun game is "Ping Pong" where students are divided into teams of two and the team that gets the answer correct gets to throw a ping pong ball into one of three cups to get a prize for their team. Prizes should be things like a homework-free pass or lunch in the classroom.

CREATIVE WRITING PROMPTS- A creative and calm activity to get your energetic students back into the grind is to have them write about what they did over Thanksgiving break. Here are some creative writing topics to get you started,
What are you most thankful for and why?
What was your favorite food item of Thanksgiving meal and why?
Who was the person you spent the most time with? What did you do with them?
Write about a place that you went over Thanksgiving break.
Write about something you did with your family over Thanksgiving break.